T _ H _ E ___ B _ o _ O _ o _ T _ i _ F _ u _ L ___ B _ o _ N _ i _ T _ a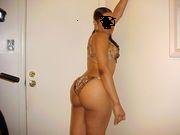 Contact Phone: (202)257-1108
Welcome to the BoOoOoOtiFuL World of BoNiTa!
This Breath-taking and BoDyLiCiOuS barbarian stands 5 foot 7 inches.
Her xXx – ordinary dimensions are: 34C – 24 – 38 with ALL the right curves from HEAD to TOE!
BoNiTa has LONG black hair that touches the middle of her back.
And, she has skin that FEELS as soft and smooth as BUTTERMILK!
Would U like to ESCAPE into a NEW dimension with BoNiTa?
Call BoNiTa .. (202)257-1108 !
Phone number
(202)257-1108
Link to reviews (the erotic review)